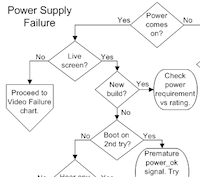 Morris Rosenthal has written a book that includes 17 flowcharts to help walk you through the process of troubleshooting computer related hardware issues.  He is offering eight of these flowcharts for free on the Foner Books website including a boot failure troubleshooting poster.  Whether you are training new techs or are a new tech yourself these are great tools to help teach and learn the process of troubleshooting computer problems.
According to Morris, these flowcharts are:
not for absolute beginners, as you can see from looking at any of the diagnostic charts. There are no photo-illustrations in the book, no history, nor explanations of basic computer part functions, like "What's a hard drive?". The sole focus of the book is learning a structured approach to PC repair. The intended audience is hobbyists who already have some experience repairing computers or beginning computer technicians.
You can access these free flowcharts on the Foner Books website at http://www.fonerbooks.com/pcrepair.htm.  You can also purchase the book with all 17 flowcharts on Amazon.com

or the eBook on the Foner Books website.