If you have an IT services business or are in the process of starting one, I highly recommend offering Mac support.  Despite the fall of PC sales in the recent years, Apple's Mac computer sales have continued to remain strong.  And, as a result, Macs continue to show up in more home and business environments.   In the following article, I would like to explain why you should and show you how you can support Macs with your IT business.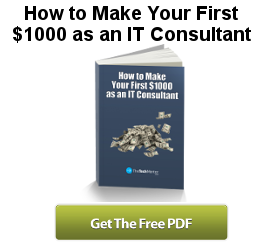 Why Should I Offer Mac Support?
There are two main reasons why you should offer Mac support with your IT business.  The first reason is because more and more businesses (and home users) are using Macs.  Because of this, the demand for Mac support continues to climb which means that there is a greater need for people to support them.  Simply put, offering Mac support is another way to generate additional revenue for your IT business.
The second reason why you should offer Mac support is because it's a great way to get your foot in the door with a prospective client.  Think of it this way.  Let's say a prospective client has 20 PCs and 2 Macs.  Your competitor tells the prospective client that they will support all of their PCs but won't touch their Macs.  You, on the other hand, offer to support all their PCs plus their Macs.
Which IT business do you think they will choose?  The answer is the one who will take care of everything.  Not only do they want all of their systems to play nicely together, they also don't want to have to deal with multiple vendors.  This alone helped me land multiple clients who had mixed environments.
But I Hate Macs
It's funny how many people have an absolute hatred toward Macs (or any Apple product for that matter).  If this is you, you should put aside this personal hatred and think about what's best for your business.  If supporting Macs is going to bring in more revenue, I highly recommend you consider adding Mac support to your service offerings.
Macs Intimidate Me
Maybe you don't hate them but are just intimidated by them.  This seems to be the case with a lot of techs who have never had their hands on one before.  If this is you then you may actually find that using and supporting one is just as easy (or easier) than a PC.  I highly encourage you to give it a shot and see for yourself.
So Where Do I Begin?
The first thing you need to do is get your hands on a Mac or OS X by doing one of the following.
Install OS X Inside a VM on Your Windows PC
Next, you need to learn how to use a Mac.  Here is a very good tutorial that covers almost everything in under an hour.
Learn The Mac In Under An Hour
And finally, you need to learn how to troubleshoot, repair, and support Macs.
For OS X and software related support, I have put together these two guides.
The Ultimate Mac Repair Quick Reference Guide
Warranty Support
If the Mac has a hardware issue you will want to check the warranty coverage.  Apple products typically come with a one year warranty.  If the buyer chooses, they can purchase AppleCare which will extend their warranty coverage for a total of three years.
If it's under warranty, you will want to take it to the nearest warranty repair center and have them repair it since the parts and labor will be covered.
If the machine is out of warranty, you can attempt the repair yourself.
For hardware related repairs, iFixit has every guide you will need with step-by-step instructions on how to repair, replace and upgrade almost every version of the Mac.  They also sale every tool necessary to perform repairs including parts.
iFixit Mac Hardware Repair Guides
Please post any questions you have related to offering Mac support below and I'll be more than happy to help you out.