Windows Update Downloader and usage guide!

Recently I was faced with a situation where I had an automatic update that wouldn't install. To try and troubleshoot this issue, I needed a way to download the update so I could perform a Windows 7 manual update (note it works for several other versions of Windows too – see the list below). Since Microsoft doesn't offer such an option, I had to look elsewhere for help. Luckily, there is a program that was created to do just this. Read on below.
The Software you need – Windows Updates Downloader (WUD):

This Windows update installer helps you manually install Windows updates. It saves manually downloading each of the installs individually, which used to be required. It is an essential part of my step-by-step guide, and you'll use it and learn how to do it yourself. It's also great to use in conjunction with a Windows Vista Unattended Installation CD and Windows XP Unattended Installation CD so the updates are installed with the OS.
It works for:
Windows 7,
Windows 8,
Windows Vista,
Windows XP,
Windows 2003 Server,
Windows 2000,
Office 2003, and even
Exchange 2003.
Just follow the steps below to get started.
Step 1: Get Windows Update Downloader
To navigate to the downloader website, click on the following link to find and Download Windows Updates Downloader. You may notice the website is not pretty, but it is effective – and that is all we need. Once on the website, identify the appropriate one for your needs by reading the text carefully. The download 'buttons' are set as gold colored text lines.
So once you've identified the version you want, prepare to download the executable file. The last time I checked, the most up to date version is build 2.50. This is immensely popular software with hundreds of thousands of downloads for Version 2.40 and over a million downloads for Version 2.50. Wow! That's impressive don't you think? (I'd like to think I've sent a lot of these happy 'customers' to them.)
Just be sure to download WUD first, then run it once before you download the update lists you want to use.
Step 2: Download the Updates List
You can navigate while on the page, via the gold menu beneath the 'Windows Updates Downloader' banner. Or you can simply click on the following link to find and Download the Update List for the product you wish to download updates for. Reading through the table you will see the windows products listed in the first column, along with the service pack number and then the platform (that is x64 or x86). You can double click it to automatically import it. When it has been installed it will give you the following message saying "Compressed UL file installed".
Just be sure to download WUD first as stated in Step 1 above. Note: make sure you put the Updates Lists in the same folder as the Windows Update Downloader folder (this should happen automatically when you select to open the UL). These two things when followed, may address some of the issues I've seen listed in the comments beneath this article.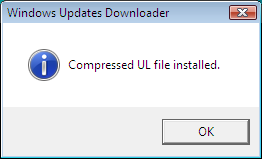 Step 3: Open Windows Update Downloader and Select Files
Open Windows Update Downloader and select the updates you wish to download. You can change the location in which the updates are downloaded by clicking "Change" next to Download Folder (see the screenshot below). Click the "Show Options" button and select "Product as subfolder" to separate the downloaded updates into subfolders based on the product name. This makes them much easier to sort through if you are downloading updates for multiple products.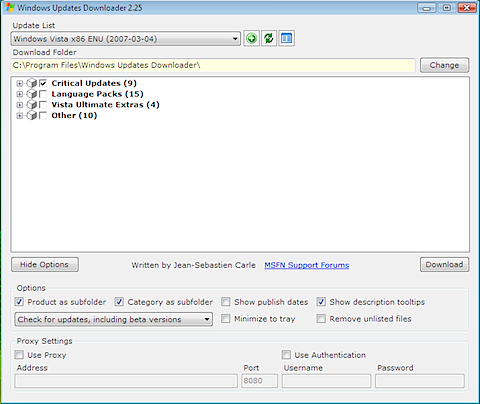 Step 4: Download Updates
Click "Download" to start downloading updates. You will see the progress bars indicate the progress through the process for each item, as shown below.

Step 5: Retrieve Your Updates
Once the updates have finished, you can navigate to your download folder to retrieve your updates.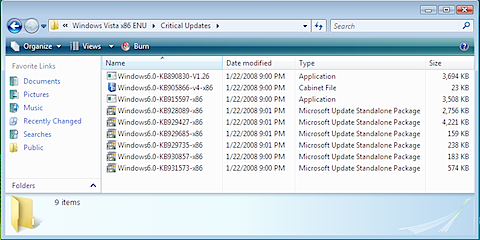 You are now ready to install the updates with a simple double click to run. If you have any experience with downloading Windows Updates manually, please feel free to share in the comments below to give feedback and to help others.
Summary of How to Download and Install Windows Updates Manually
So that is how you can get out of trouble when Windows updates won't install automatically. My issue was to perform a Windows 7 manual update, but as your saw above it also works for Windows 8, Windows Vista, Windows XP, Windows 2003 Server, Windows 2000, Office 2003, and even Exchange 2003. Windows Update Downloader is the software tool to use to download windows 7 updates manually, and it is very popular with well over a million downloads. The above guide shows a few tricks to make using the software easier.