vLite is the nLite Vista program presented here.
The other day I showed you how to create a Windows XP unattended installation CD using a program called nLite. Today I would like to show you how to create an unattended installation CD for Windows Vista using a program called vLite. This unattended installation CD works the same way as the one for Windows XP and allows you to automate the whole process of installing Windows, drivers, updates, as well as configuring Windows just the way you like it.
For this tutorial, you will need a Windows Vista installation DVD and a product key if you don't want to be prompted to enter one during the installation. You will also need a blank CD or DVD if you would like to burn your unattended installation when you are finished.
Step 1: Download and install vLite. When you are finished run the program.
Step 2: You will be asked to locate your Windows Vista installation files. Click "Browse" and choose your Windows Vista installation DVD. You will then be asked where you would like to save your Windows Vista installation files. Create a new folder, name it whatever you like, and click "OK". vLite will now begin to copy the installation files from the DVD to the folder you created. When it is finished, click "Next".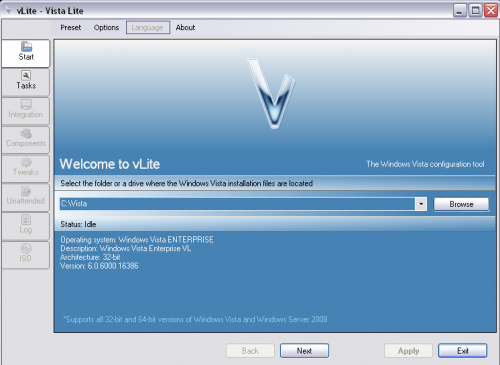 Step 3: Here you will be able to select which options you would like to configure. Click "All" and then click "Next".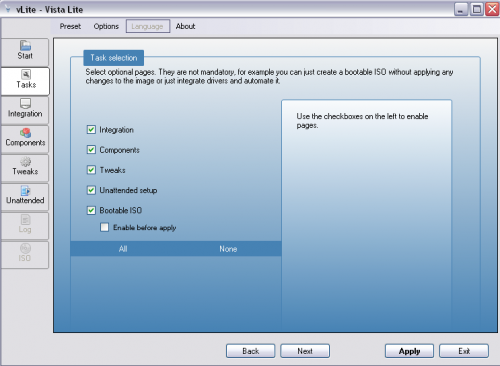 Step 4: Here you will be able to add all of the needed Windows updates to your unattended installation so you don't have to install them later. Before you can add them, you will need to download the updates manually and save them to your computer. The easiest way to do this is by using Windows Updates Downloader. Once they are downloaded, click "Insert" and select them all. You can also set specific drivers to install when Windows installs by clicking on the "Drivers" tab and adding them. You can do the same thing with language packs by clicking on the "Language Pack" tab. When you are finished, click "Next".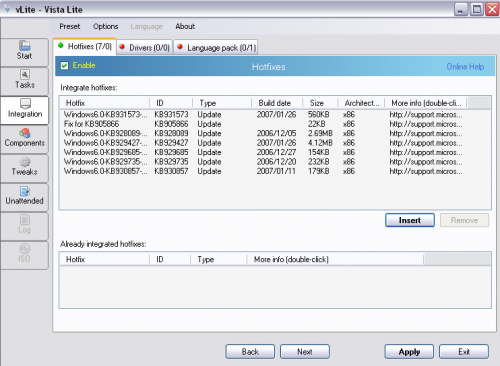 Step 5: Next you will be able to remove components that you don't want installed during the installation process. When you are finished click "Next".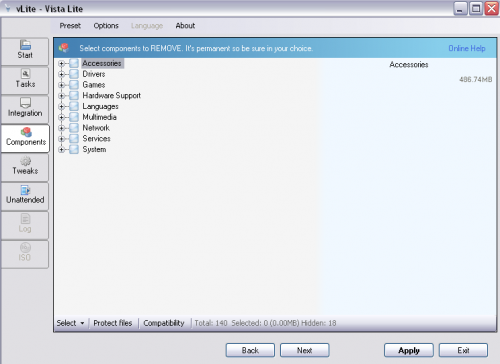 Step 6: Here you will be able to tweak some additional security, system, and explorer settings. When you are finished click "Next".

Step 7: Now you will be able to configure the unattended installation settings. If you have a product key, enter it in so you aren't prompted for it later. When you are finished, click "Apply".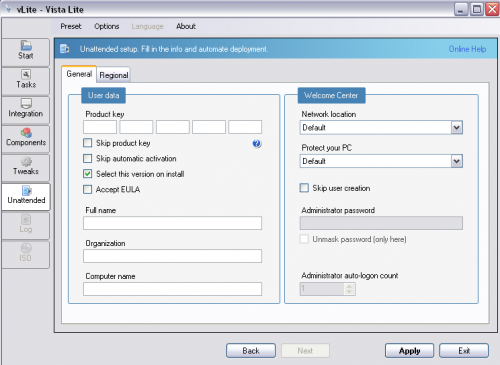 Step 8: You will be prompted with a window asking you to choose an apply method. The "Just Apply The Changes" radio button will be clicked by default which is fine. The "Apply And Rebuild" method takes a lot longer but saves you more space. Don't use this setting if your image contains more than one version of Vista. Click "OK" and vLite will now begin building your unattended Windows installation.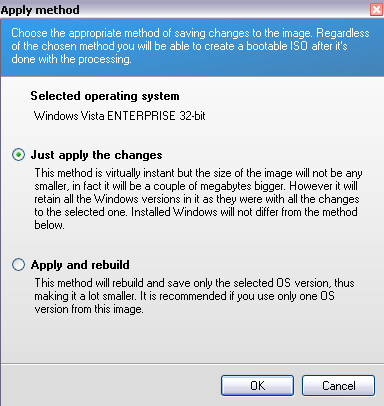 Step 9: You will now be able to burn your unattended Windows installation to a CD or DVD. You can also create an ISO file that you can burn later.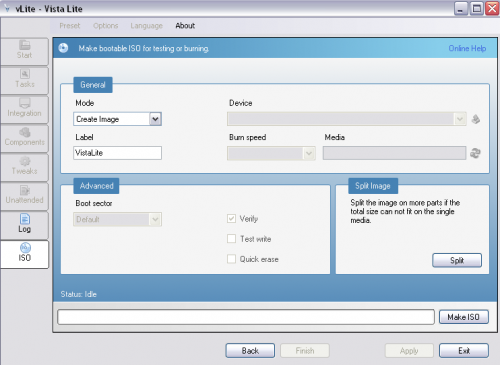 You are now ready to install Vista using your unattended installation CD. If you have any experience with vlite or unattended Windows installations, please feel free to post comments.