Creating an offline update CD is a great way to update a Windows machine when you don't have an available Internet connection. It can also make updating faster because you can reuse the CD on multiple machines and no longer have to wait for the updates to download. Since Microsoft offers no easy way of doing this other than ordering one of their update CDs, I would like to show you how to create one yourself.
Step 1:Get Offline Update
Download and extract Offline Update.
Step 2: Select which Windows Version
Run "UpdateGenerator.exe" and select the products you wish to create an offline update CD for. Your options are Windows 2000, Windows XP, Windows Server 2003, Windows Vista, Office 2000, Office XP, Office 2003, and Office 2007. You can also select the type of ISO file you want to create under "Create ISO image(s)". You can create an ISO per product and language or one large "cross-product" DVD for all multiple operating systems. Click "Start" to download updates and create the ISO file.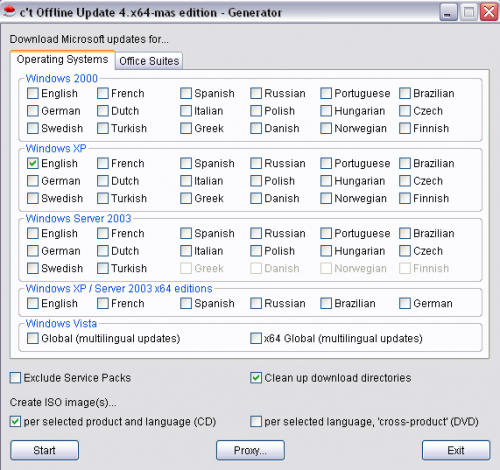 Step 3: Burn the ISO file
When Offline Update is finished, navigate to your "iso" folder under the directory you extracted the Offline Update program to. Depending on the ISO selection you made, you will either see an ISO file per product or one large ISO file for all products. Burn the ISO file to a CD or DVD.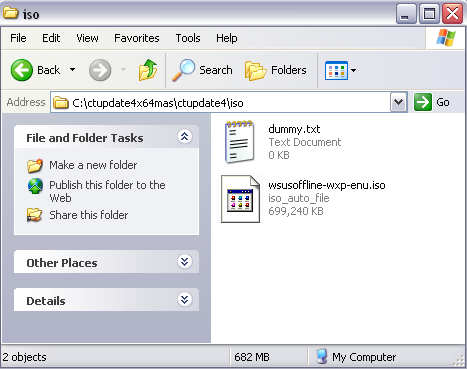 Step 4: Put in CD to Auto run
Put the CD or DVD into the computer you wish to update. The update installer should auto run. If it doesn't, navigate to the CD and run "UpdateInstaller.exe". Choose "Automatic reboot and recall" to have the computer automatically restart the update process after a reboot caused by an update. This option makes the update process fully automated. Offline Update also gives you the option backup your system files or to install Internet Explorer 7. When you are ready to begin the update process click "Start".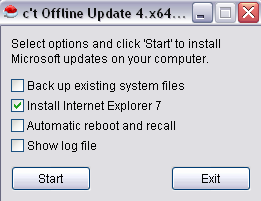 Offline Update will now scan the computer to see which updates are needed and will only install them if they are. If you have any experience with Offline Update or any other types of update utilities please feel free to share.