How to Create a Batch File to Refresh Network Settings
Here we show you how to make a bat file. In the example today we will create a batch file (with the .bat extension) and use it to refresh network settings. If you are an emerging computer tech and you haven't already become accustomed to using the ipconfig command, you soon will. This command is most commonly used at the DOS prompt to see a computer's current IP configuration. Using this command with three different switches also allows you to refresh a computer's network settings which can be very useful when troubleshooting network issues. In the following tutorial, I would like to show you how you can create a batch file that will run this command along with its switches to quickly refresh a computer's network settings.
Introduction to How to Make a Batch File
Before we get started, it might be helpful for you to first understand what a batch file is.  A batch file is a simple text file that can run a series of DOS commands when executed.  They can be created using Windows Notepad or any other plain text editor. 
You simply enter the DOS commands that you would like to run and save the file with a .bat extension. 
You can then execute it by simply double clicking on it.
Learn about Atera?
Just a side note I'm sending out to all Techs. If you are in IT (and if you are reading this page, I suspect you are!) then you could be interested in something I found relevant at the moment, that could help and save you!

It is called ATERA, and it would be great for anyone with a small IT services business.
I advise you to learn more, so click and read more about it here!
Let me know what you think about it in the comments below.
Lets get started on that batch file.

Step 1 – Open a text editor (like Notepad)
Click on the "Start" menu and go to "All Programs".  Go to "Accessories" and open "Notepad".
Step 2 – Type the text that will create the batch file in Notepad
In Notepad, type in the following commands which will be run to refresh a computer's network settings.
ipconfig /release
ipconfig /flushdns
and finally:
ipconfig /renew
It should look like this.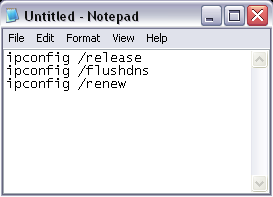 The "release" switch will release your current IP address settings.  The "flushdns" switch will flush the DNS resolver cache.  The "renew" switch will renew your IP address settings.
Now you are ready for the finishing touches to create your batch file.
Step 3 – How to Create the Bat File
Now click on the "File" menu and select "Save As".
Change the "Save As Type" field to "All Files" located near the bottom of the window. 
Now enter a "File Name" such as "Refresh.bat" without the quotes. This is the important step to make a bat file. It is important that you put the .bat extension on the end of the file name or you will not be able to execute it as a batch file.  Choose a "Save In" location and click the "Save" button to save it.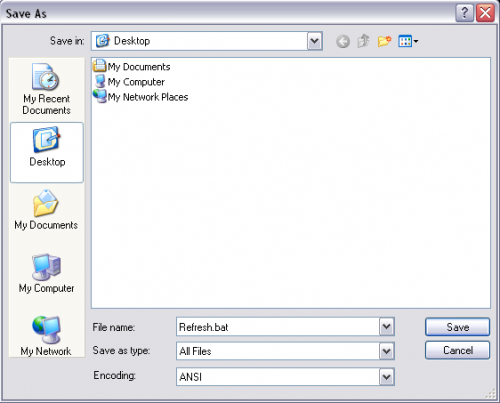 Step 4:  Now you can run your new batch file by double clicking on it.


After the batch file has finished executing, the computer's network settings will be refreshed.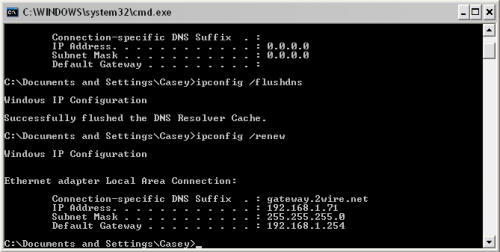 You can put this file on your desktop for quick access or on a flash drive to use on other computers.  It can be run on any Windows machine including XP and Vista.  Remember, these commands will only work if the computer is set up to obtain an IP address automatically and will not work if the computer has a hard-coded IP address.
If you have any experience using batch files, please feel free to share what you use them for.
Conclusion
We explained what a batch file is, and explained they have a .bat file extension. We showed an example of how you make a batch file to refresh network settings.