If you have been using Windows Vista for a while then you probably know how annoying the security confirmations can be. Any time you install a program, install drivers, run programs that need administrative rights, change certain configuration settings, etc., you are forced to confirm your actions before continuing. Fortunately, there are ways to disable these prompts.
First we need to understand what causes these prompts.  User Account Control or UAC is a new security feature in Windows Vista that gives applications only standard user privileges when they run. This helps to prevent applications and malware from destroying critical operating system components that they would otherwise be able to do with administrative rights. The annoying side effect of this, however, is that each time an application needs administrative rights, you are presented with a "Windows needs your permission to continue" prompt.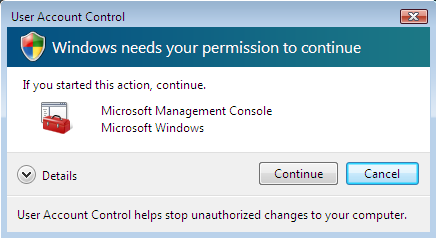 Windows Vista does have the option of disabling UAC completely. Disabling UAC will suppress the prompts but also disables all of the other positive effects associated with UAC such as running applications with standard user rights, running Internet Explorer in protected mode, etc. When you disable UAC, you are essentially running Windows Vista with the same type of security as Windows XP. You can disable UAC in Vista by performing the following steps.
Step 1: Click the Start menu and in the Start Search box, type msconfig and hit enter. If you receive a security warning, click "Continue."
Step 2: Click the "Tools" tab.
Step 3: Select "Disable UAC" and click "Launch."
Step 4: Close out of the command prompt window and the msconfig window. Now reboot the computer for settings to take effect.
A better option is to switch UAC into "Quiet Mode" using TweakUAC or WinCleaner UAC Switch. Quiet mode allows you to still experience the positive effects of UAC but disables the prompts when an application needs administrative rights. In this mode you are giving control back to the computer, and in a sense, the computer is hitting the continue button for you when an application needs administrative rights.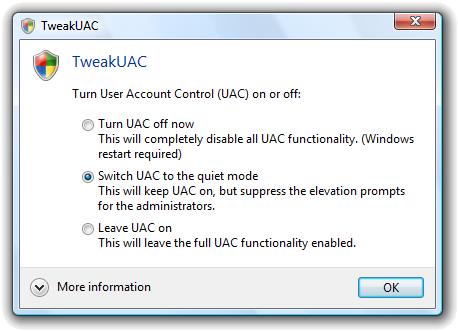 Both of these options get rid of the annoying prompts but do not offer the full protection that UAC was designed to give. You should only follow these steps if you are an experienced user and are not worried about malware.