Can't turn off airplane mode Windows 10? Do this!
This is the fix for when you're stuck and can't turn off airplane mode in Windows 10 on your device, including on a Surface Pro, and you want to turn on the WiFi. I've found it can be a problem with the laptop or Surface Pro wireless controller rather than fight mode itself when the airplane mode won't turn off and seems to be stuck. I've noticed that there seems to be two triggers, one where you've have a laptop or other device and have just installed windows 10, or one where your device has got too hot and it has affected the Surface Pro WiFi controller. The same step by step procedure may fix either problem cause.
First below is a quick fix procedure that may work in less than 60 seconds. If you're lucky it will work and you'll save time. Also provided further below and onto a second page is a complete step by step guide on how to turn off airplane mode when stuck on your Surface Pro (see How to Fix Windows Surface Stuck in Airplane Mode). The more complete guide has more details but both are pretty detailed and easy to follow with screen copies to help guide you. If you have a Surface Pro and it feels hot, make sure you follow the more complete procedure.
Quick Fix Procedure for Windows Stuck in Flight Mode
Step 1: Go to Device Manager
There are a few ways you can open the Device Manager. An easy way is to click on Cortana or the search interface in the Task Bar.
Then start typing the letters to spell out Device Manager. You can watch as you type because several suggested search item results will pop up, and as you type these will narrow down to the few available for the characters you have typed. See the screen capture below: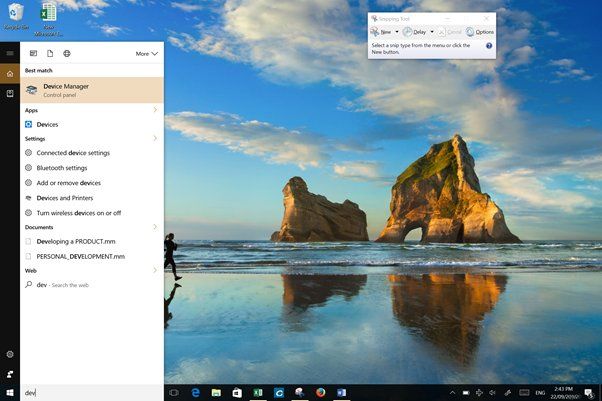 The above example shows what you may see after having typed just the first three letters of 'Dev'. Exactly what displays may depend on your Windows 10 device or Surface Pro. Keep typing enough until you see the Device Manager option come up, and then click on it.
If you have Cortana operating with voice recognition you can click on the microphone icon (circled in the screen shot below) next to the search entry box and say "Device Manager".

If you don't see the Device Manager window, it might be behind some of your other open applications. Minimize any other open applications until you see the Device Manager window.
Step 2: Find and Select the Network Adapters
Search down the list for Network Adapters. You might need to click on the little grey side arrow to the left of it, to expand the list to see what is inside it. Or you can just double-click on the word itself (see below).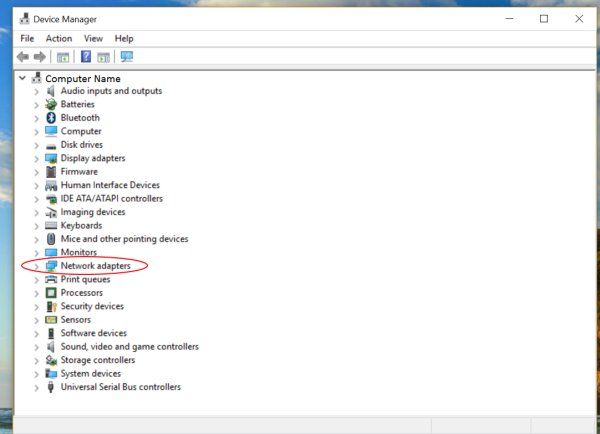 Step 3: Find Your Wireless Controller in the list
Find an item that has a name of something which indicates it is the Network Controller (under Network Adapters). Mine is highlighted in the screen shot below to give you an example.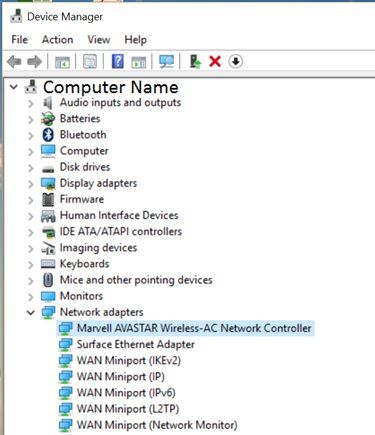 Step 4: Open your Network Controller and Disable it
Double click to open your network controller. It might say under the General tab something like "this device is working properly". I have my doubts! It has always shown "working properly" message this whenever I've been troubleshooting this problem.
Then go to the Driver tab, then click "Disable" button as highlighted in the screen capture below.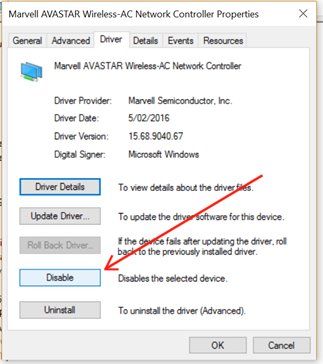 You may get a warning that this action will disable your Network Controller. I suggest you just accept any warning you might receive. We're going to be turning it right back again on anyhow.
Step 5: Enable the Network Controller
Wait for a moment or close and reopen the Network Controller. This time you will see the button says "Enable" in the same location that it said "Disable" before.
Click on "Enable" and wait a moment.
I know I mentioned a longer procedure for this problem when windows 10 airplane mode won't turn off at the start of this quick fix procedure, so click here for a detailed procedure on How to Fix Windows Surface Stuck in Airplane Mode.
If it has worked, you will now have the option to turn off flight mode and WiFi will be available because the WiFi will not be being blocked by a problem with the Network Controller. Now you know fix Windows stuck in airplane mode fast!