As a tech, I am constantly setting up new computers. I wish setting them up was as easy as just plugging them in and turning them over to the user but, unfortunately, it's not. Before I can do this, not only do I have to install all of the typical company software, but I also have remove all of the preloaded trial software. This can take lots of time depending on the manufacturer of the computer and how much software has been preloaded. This is time that I could spend doing other things like managing our servers. In my search to make this process much easier, I have found a program that will automatically uninstall preloaded software for me, and I would like to show you how to use it.
Edit: I am aware that imaging is better solution if you have a set of standard computers. Since we set up a lot of non-standard computers, this solution works great. This also works great after a system restore on an older computer that you don't have an image for.
The first thing you will need to do is go to here and download The PC Decrapifier.
When you run the program, you will see a list of preloaded software for removal.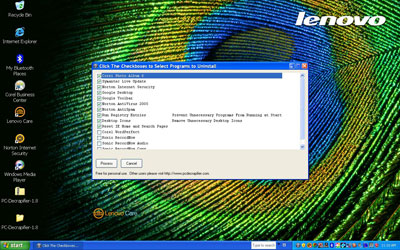 Select the programs that you want to uninstall. It will also list some non-trial software that isn't needed by most users.
Click the Process button and it will start uninstalling the software.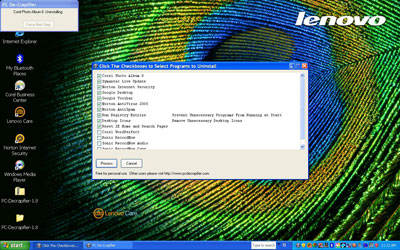 You will notice a dialog box in the top corner of your screen that will tell you which program is being uninstalled. There is even a "Force Next Step" button if the uninstaller hangs on one of the programs.