If you support users like I do, then you will know how frustrated they can get when their hard drive fails and they have no backup. Even worse is when this happens to you. That is why I would like to share with you an easy way to automatically back up your hard drive using a very powerful free backup utility. Just follow these simple steps.
Step 1: Go to http://backup.comodo.com/ and download Comodo Backup. Fill out the form and your activation code will be emailed to you.
Step 2: Run the installation wizard and follow the steps. Once you are finished you will be prompted to restart.
Step 3: After you restart your computer, open the Comodo Launch Pad. Click the "Show Application Window…" button. The first time you do this, you will be prompted to activate Comodo. You can activate Comodo by using the activation code that was emailed to you. Activation is free and lasts a lifetime.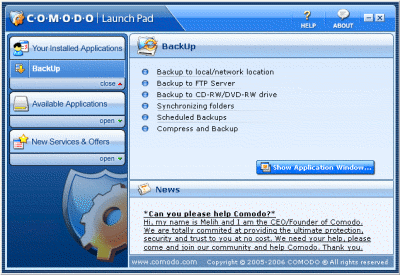 Step 4: In the Application Window, click the "Backup" menu and select "New Backup…"
Step 5: Under the "Source" tab, choose the files that you wish to backup by clicking "Add Item". You will notice that there is an option to "Add My Documents" and "Add Outlook Inbox". This allows you to add these two items quickly without having to hunt them down.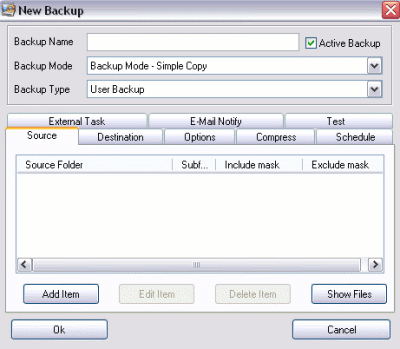 Step 6: Click the "Destination" tab and choose where you would like to backup your data. Comodo allows you to backup not only to your local drive, network drive or removable drive, but also to an FTP server or a CD-RW and DVD-RW drive.
Step 7: Click the "Options" tab and choose either incremental backup or full backup. The incremental backup only backups files that have changed since your last backup. This makes the backup process a lot quicker, especially if you have a lot of files. Choose any other options you would like as well.
Step 8: Click the "Compression" tab if you would like to setup compression. This helps if you have a limited amount of space. If you are not limited to a certain amount of space then you don't have to set up compression.
Step 9: Click the "Schedule" tab to setup your backup schedules. Set your backup to run at a time when you are not using the computer.
Step 10: Click the "E-Mail Notify" tab to set Comodo up to notify you via e-mail with your backup results. This is great if you have Comodo running on another computer that you do not physically touch on a daily basis.
Step 11: Type your "Backup Name" at the top and click OK to save your settings. You can now close the Comodo Launch Pad. The Comodo Backup service runs in the background and automatically starts when you turn your computer on. You can also see its status by putting your mouse over the Comodo Launch Pad icon in your system tray.
Your files are now safely in the hands of Comodo Backup. Keep an eye on it the first day it runs to make sure it is backing up properly. Be sure to check it on a regular basis as well. Feel free to share any other backup utilities that you use with us too. I'm always interested in hearing about what other people are using.