One of the features that I love about Mac OS X Leopard is the ability to set up multiple desktop workspaces which are called Spaces. Spaces are a huge help when trying to manage lots of windows at the same time or when working on multiple projects at once but wanting to keep them separate. My favorite way to use Spaces is to run Windows (using VMware) in one Space while using OS X in another. Now Microsoft has taken notice of the benefits of Spaces and is offering a free program called Desktops that allows you to do the very same thing in Windows. In this tutorial, I would like to show you how to use it.
The first step is to download Desktops by going to http://technet.microsoft.com/en-us/sysinternals/cc817881.aspx. Since Desktops doesn't have an installer, you will want to extract it to the folder where it will be located permanently like "Program Files."
Double click the Desktops application and you will be presented with a License Agreement.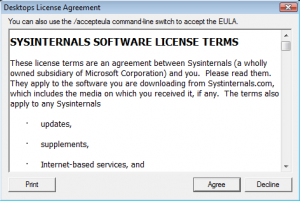 Once accepted, you will be presented with the settings screen.  Here you can choose which key combination you would like to use to switch between the different Desktops. Also, be sure to check "Run automatically at logon" so Desktops starts when Windows starts. Click "OK" and now you can start using your multiple Desktops.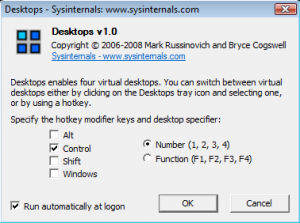 You can start switching between them by using the key combination you chose or by clicking on the Desktops icon in the system tray. When clicking on the Desktops icon in the system tray, you get a visualization of what each Desktop has and you can choose it by clicking on them.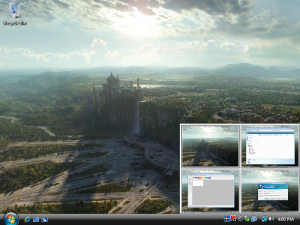 All in all, this is a great little app to use for multitasking. If I had any complaints it would be that you can't choose how many Desktops you want and are limited to four. Maybe a future release will add this function.